Introduction
Getting a good deal when selling or buying a home is a priority for most, and hiring a real estate agent goes a long way in helping to achieve that goal. Zilculator.com is a tool designed to help you do both, as in addition to functioning as an off-market property search application, it can be used to in-depth real estate investment analysis.
The Zilculator Real Estate Analysis application helps wholesalers, investors, rehabbers, and realtors with specifics on the purchase, monthly cash flow, property description, comparative market analysis, rehab estimates, and more.
What Zilculator Does Best
It provides a user-friendly interface with helpful popups that guide you through adding a new property easily. Zilculator.com allows you to enter an address, financing, income, expenses, and property description. There's also the option of adding expenses for future years.
Provides fix and flip analysis for rehabbers, ensuring they don't overpay for properties. The numbers on the analysis include extensive rehab estimates and financing options in the evaluation section.
Good use of technology in property inspection using Google street view to examine the property and surrounding homes.
Wholesale analysis which helps you decide on selling to a flipper or rental property buyer. Also, comparable sales analysis on ten properties similar to the property of interest.
Ease of branding property reports to lenders, clients, and colleagues with your logo and address.
A personalized property listing page which you can share with potential buyers and to publish new deals on.
How Zilculator Works
Zilculator doesn't reveal much about how they go about their real estate analysis but generally, it covers important real estate metrics like return on investment, gross operating income, net present value in real estate, etc.  They provide many of the definitions with examples for investor's education in a separate section of their site called: Real Estate Metrics.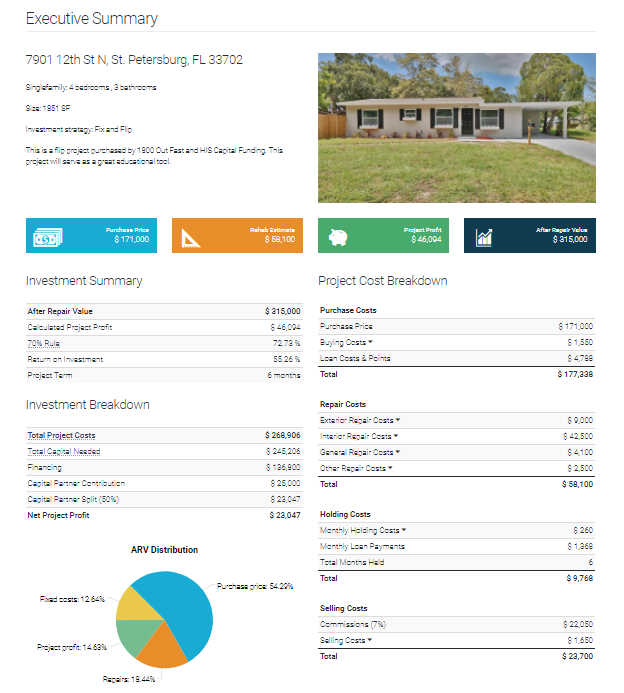 To use zilculator.com, you begin by registering on the site. The registration process involves selecting between four different plans – free, plus, pro, and premium plans, with the premium plan going for $29 each month. See Zilculator's Pricing page to learn more about each plan and its features.
Following the completion of registration, you then enter the property details and request for an online property report. You can compare your current investment property with other properties you analyzed using Zilculator's comparison tool – figuring out the best investment opportunity. You can easily determine correct After Repair Value using comparative market analysis module.
Scrolling down on a property report shows the executive summary, property description, sales history, comparative market analysis, rehab estimates, and more. At the bottom of the report are a gallery showing different parts of the property and an email link top-left urging you to request more information
The result from the analysis can then be shared via email, downloaded as PDF, or on social media.
Zilculator Estimates
The most popular home search sites available today (such as Zillow) provide only a marketing platform for real estate agents, but Zilculator takes it a step further – it helps with insightful and effective property analysis reports. A common complaint about home value estimates on the web is that the values they give seem to vary wildly from the actual values. As with other estimates, Zilculator estimates are only as good as the value fed into it, including recent sales of similar properties.
Often, relevant information may be left out of the calculations, such as a loss in value due to neglect and poor maintenance. Ultimately, online estimates are more accurate on the average and less so in specific cases. The estimates can be used as a benchmark to guide negotiations when you eventually talk with a human.
What Makes Zilculator Different
While most real estate analysis tools provide generic analysis results, Zilculator provides results targeted at specific interest groups, particularly realtors and agents. Some realtors' analyses include a purchase history of the property, operating analysis, yearly cash flow, and long-term estimated cash flow. For agents, they would find that results on rehab estimates, comparative market analysis, fix and flip analysis, and much more.
Both investors and real estate professionals can find a lot of value in regular real estate education blog articles, that even contains "Ask a Realtor" section, where you can ask anything and get a professional reply in a form of a blog post!
Also, Zilculator has a property inventory website that agents can use to present their investors' listings. It can also be used for off-market property marketing using a customizable domain in this format: yourcompany.zilculator.com. NOTE: this identifier can't be changed once it's set, so you must choose wisely.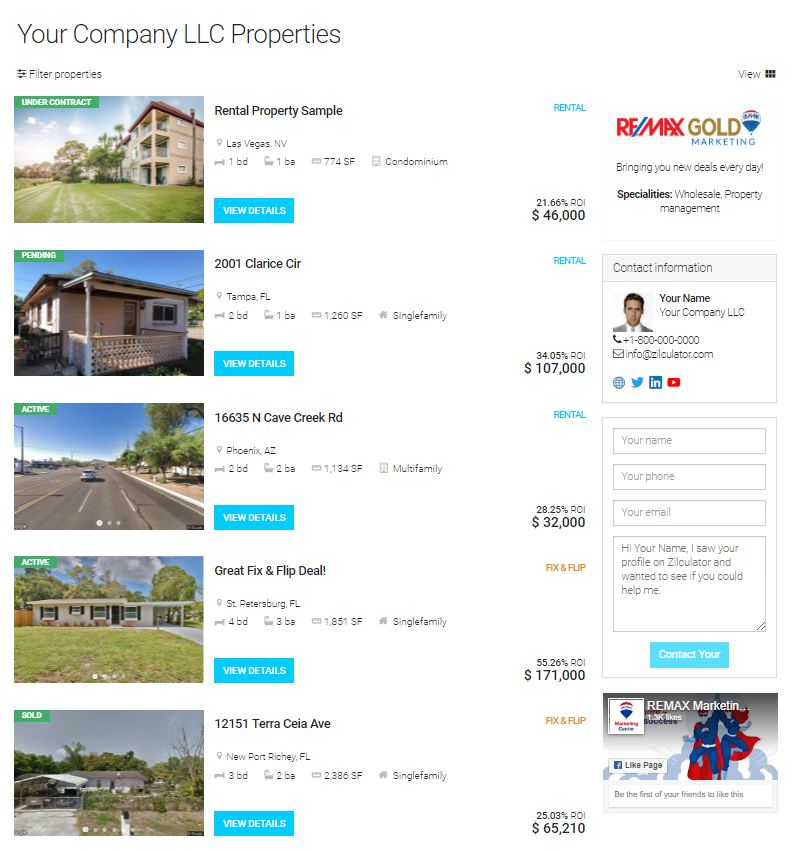 The Bottom Line
For data-driven real estate investors, Zilculator is the real deal, and it's available for use at a great price for the value it brings. Zilculator offers varied insights into your property of interest and creates room for easy customization.
This means vital metrics get computed automatically without the use of applications like Excel. By entering some simple data, you get highly complex results in seconds. In addition, Zilculator offers distinct features for real estate listings to promote properties for investors/buyers when you are an agent.
Overall, Zilculator is a handy tool for homebuyers, sellers, real estate agents and investors in need of a tool for property analysis and marketing.